PEACE AND JOY COMES ALIVE IN PEACECARNIVAL
Over three hundred bikers, cyclists and walkers took part in Peace Carnival

Benagaluru, 2nd October Sunday 2022. Today is the day that Mahatma Gandhi was born as the messiah of Non Violence
He made the legacy of India for Peace world renowned by his Peaceful nonviolent resistance against colonization which Brought India its Freedom from British Rule
But Acts of violence, Aggression conflicts wars go on unabated and our beautiful planet is on the verge of self-destruction. We are dominated by a Culture of Violence.

A new world order under the leadership of children and youth is urgently needed
In order to grow a Culture of PEACE The PEACECARNIVAL was organized. It was a celebration of LOVE, PEACE and JOY.
The celebration was flagged off by girl student of Parikrma School at ASOHKA PILLAR a symbolic monument of Ashoka to bring Peace. 200 motorcycle riders convoy and 100 cyclists pedalled the same 22 km distance across Bangalore lead by women motorcyclists hundreds of PEACEWALKERS marched with Peace flags and placards pleading for PENS NOT GUNSAt the PEACEDOME open performances was in a vibrant swing. Children sang and rendered powerful poetry. Dr Sham led the DRUM CIRCLE wherein 400 drummers drummed for Peace.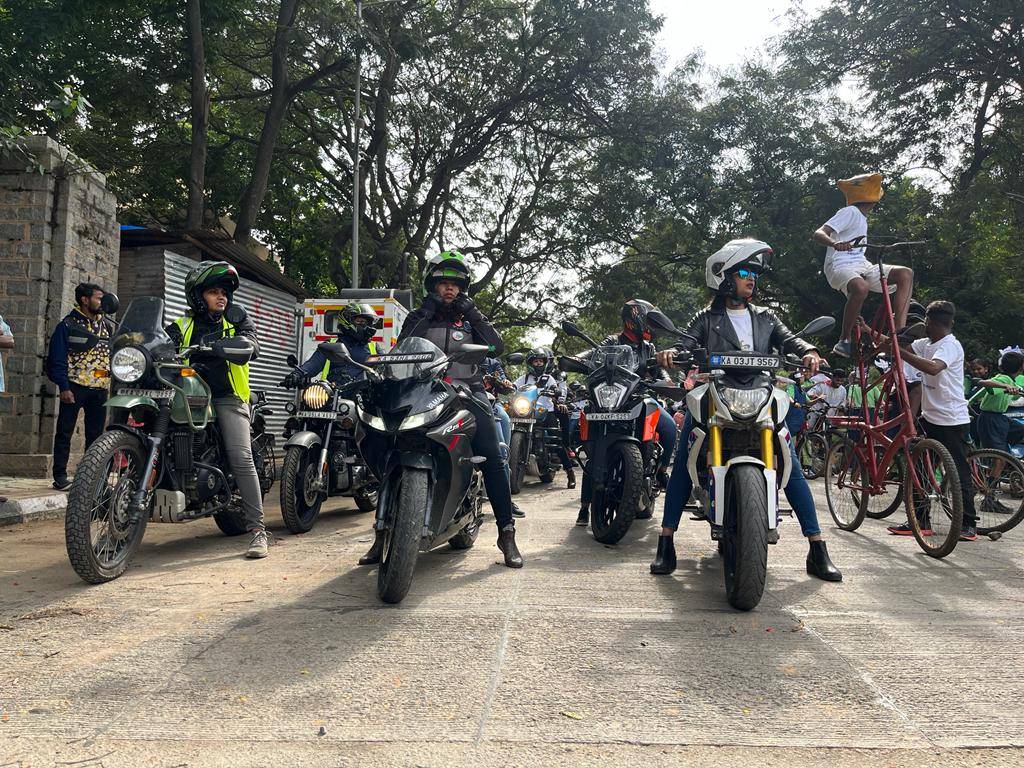 Individuals, corporate, NGOs, organizations in government sector, schools, colleges and the general public.
The food was cooked in a community effort led by SEVA Cafe
The PEACECARNIVAL, is a joint initiative of the World Peace Museum Trust & Breathe Entertainment, hosted by Magnifique Public School Kanakapura Road to commemorate the 153rd birth anniversary of the Mahatma.
John Devaraj, renowned sculptor, and founder-director of World Peace Museum, said that the Culture of Peace call is aimed to empower children and youth to strengthen harmony in society and develop a sense of respect for all life on earth.
Moinuddin US, Educationist & Environmentalist said that the World Peace Museum connects the museums of the world and recalls the bloody history of war and violence the world over, showcasing the efforts and endeavours of peace makers including artists, writers, singers, dancers, musicians, photographers, journalists and film-makers,
Said Dr Rita Mahajan, spiritual coach & healer, describing it as a unique peace movement of, by and for all. Kishore Joseph, Director, Breathe Entertainment said taking part in the peace carnival was an attempt to be the change we want to bring about, and heed the call given by Mahatma Gandhi.
Biju Nair, Cluster COO, BGS Gleneagles Global Hospital who are the health partners for the event, said they would use this initiative to spread awareness about their various CSR initiatives and also bust many myths and fears about Breast Cancer.
The PEACECARNIVAL is supported by SHE for Society, the first ever NGO formed by women bikers to honour and support martyred soldiers' families. Due to their collaboration, over 200 women and men bikers communities participated.
She for Society further empanelled & appointed a renowned Nationally spread & widely popular Biking Club 'Jawas Da Swag' to jointly Marshall & Manage the 300 Bikers to be professionally manage the Entire 25kms stretch of the Biking Rally was a big highlight and a critical aspect of the Entire Event. Mr. Manpreet Singh Kochar – The Founder & President of Jawas Da Swag not just successfully planned & executed the Entire Ride extremely Professionally but also LEAD the 200 Male Bikers as their Male Bike Leader & Appointed 12 Highly trained Female & Male Bikers along with Ms. Swamy Jha (Co-Lead Female Biker & Founder of a Local Bangalore Riding group Downtown Riders).
Mr. Manpreet Singh Kochar is a renowned Entrepreneur and Self made Businessman in the industry of Talent Management & Artist representation. He run his 2 Global Enterprises namely A&M Studio Pvt Ltd & People by People LLP from India & both companies have an international presence.
On the Occasion of 153rd Birth Anniversary of Shri. Mahatma Gandhiji … Mr. Manpreet Singh KOCHAR appeals to the entire Nation & other neighbouring Nations of India & the Subcontinent to maintain peace & harmony for sake of Humanity and for our future Generations. On this occasion Mr. Kochar also revealed that their Nationally spread Club is planning a peace Mission ride on behalf of Jawas Da Swag across the Sub-Continent countries where Bikers from All Across India and neighbouring countries will participate and the Biking Rally will travel to all the participating countries as well. This is a plan for the next calendar year 2023